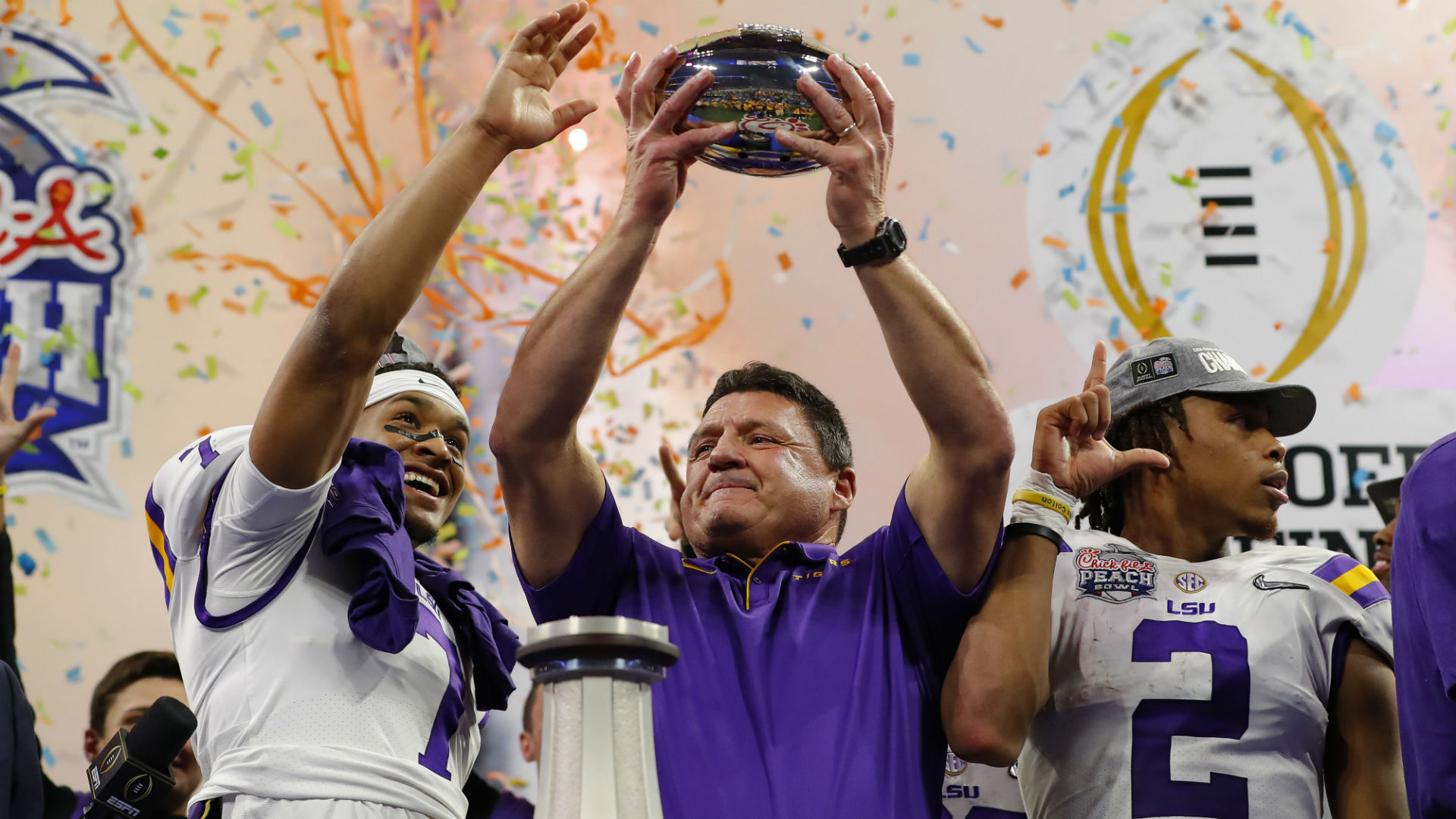 Do preseason polls matter? 
Alabama opened at No. 1 in the Preseason AP Top 25 for the second straight year, but it's the end result that matters. 
In the past 21 college football seasons, the team that opened as the Preseason No. 1 has won the national championship two times. Alabama is the last team to do it, in 2017. USC also started and finished No. 1 in 2017. 
Alabama was ranked No. 3 in last season's preseason poll before winning the national championship. This marks the sixth time the Crimson Tide have opened at No. 1 under Nick Saban.  
MORE: SN Preseason Top 25
In 209, LSU became the sixth national champion in the past 20 years that was ranked outside the top five in the Preseason AP Top 25. 
Here's a look at the AP preseason No. 1 teams since 2000 and where they finished, along with the national champion since 2000 and where it started the season.
2000 
Preseason No. 1: Nebraska (finished No. 8) 
National Champion: Oklahoma (preseason No. 19) 
2001  
Preseason No. 1: Florida (finished No. 3)  
National Champion: Miami, Fla. (preseason No. 2) 
2002  
Preseason No. 1: Miami, Fla. (finished No. 2)  
National Champion: Ohio State (preseason No. 13)  
2003 
Preseason No. 1: Oklahoma (finished No. 3) 
National Champion: USC (preseason No. 8) 
2004
Preseason No. 1: USC
National Champion: USC 
2005 
Preseason No. 1: USC (finished No. 2) 
National Champion: Texas (preseason No. 2) 
2006 
Preseason No. 1: Ohio State (finished No. 2) 
National Champion: Florida (preseason No. 7) 
2007 
Preseason No. 1: USC (finished No. 3) 
National Champion: LSU (preseason No. 2) 
2008 
Preseason No. 1: Georgia (finished No. 13) 
National Champion: Florida (preseason No. 5) 
2009  
Preseason No. 1: Florida (finished No. 3) 
National Champion: Alabama (preseason No. 5)
2010 
Preseason No. 1: Alabama (finished No. 10) 
National Champion: Auburn (preseason No. 22) 
2011 
Preseason No. 1: Oklahoma (finished No. 16) 
National Champion: Alabama (preseason No. 2) 
2012  
Preseason No. 1: USC (finished unranked) 
National Champion: Alabama (preseason No. 2) 
2013 
Preseason No. 1: Alabama (finished No. 7) 
National Champion: Florida State (preseason No. 11) 
2014
Preseason No. 1: Florida State (finished No. 5) 
National champion: Ohio State (preseason No. 5)
2015
Preseason No. 1: Ohio State (finished No. 4) 
National champion: Alabama (preseason No. 3) 
2016
Preseason No. 1:  Alabama (finished No. 2) 
National champion:  Clemson (preseason No. 2) 
2017
Preseason No. 1:  Alabama
National champion:  Alabama
2018
Preseason No. 1: Alabama (finished No. 2) 
National champion: Clemson (preseason No. 2)
2019
Preseason No. 1:  Clemson (finished No. 2) 
National champion:  LSU (preseason No. 6) 
2020
Preseason No. 1: Clemson 
National champion: Alabama (preseason No. 3)