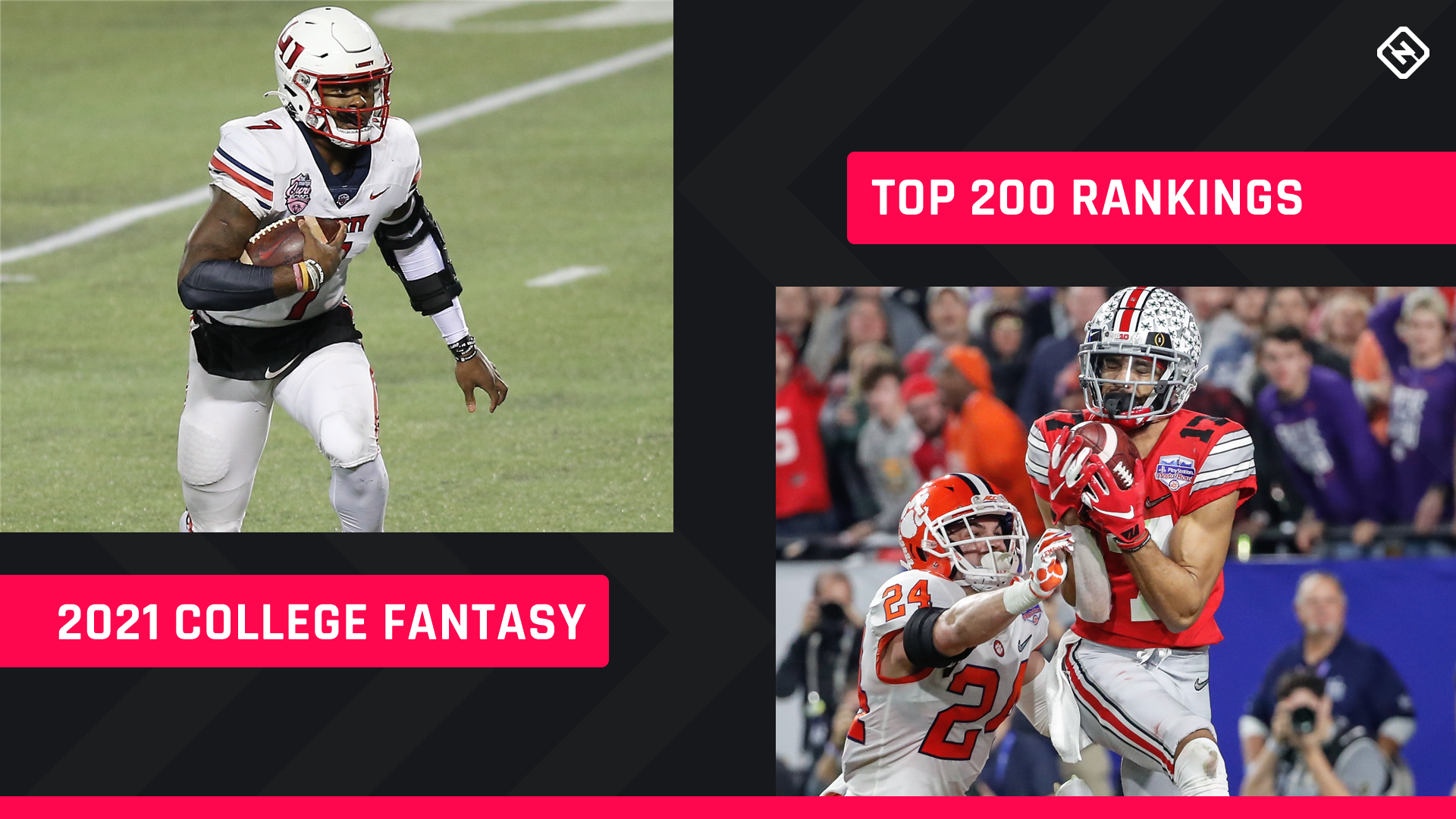 It's time to dominate your 2021 college fantasy football draft! CFBDynasty just released this season's edition of their best college fantasy players. Whether you're a CFF expert or a newcomer to the game, make the right choices on draft day, from the top players in the first few rounds to the sleepers later in your draft.. This Top 200 cheat sheet is the perfect guide to CFF success! 
The College Football Dynasty big board starts off with a pair of QBs — one of which even casual fans are familiar with and another from an independent school who might not be a household name (yet). After that, stud RBs from the Big 12 show up, and our first receiver checks in from a Big 10 school. We don't see a tight end until No. 167, and no defenses crack the top 200 at all. Hey, it's college football — what do you expect? (We'll have positional D/ST and Kicker rankings available later, don't worry.)
2021 COLLEGE FANTASY RANKINGS:
Quarterback | Running back | Wide receiver | Tight end | D/ST | Kicker
Overall, the SEC leads the way on the top 200 with 30 players. It's followed by the ACC (25), Big 10 (22), AAC (22), Big 12 (20), MAC (18), Pac-12 (17), Mountain West (16), Conference USA  (14), and Sun Belt (14), with four players from Independent schools also make the list.
DOMINATE YOUR COLLEGE FANTASY DRAFT: Join CFBDynasty
Of course, you can't just stop at 200! Join CFBDynasty today and get the full list of thousands of players and give yourself the best shot in your league. In addition to valuable draft cheat sheets, you'll get full positional rankings guides, DFS rankings, full strategy assistance, waiver wire help, mock drafts, and the best up-to-date news you can find. Use Promo Code "sportingnews" and get 15 percent off your subscription!
DOMINATE YOUR NFL FANTASY DRAFT: Ultimate 2021 Cheat Sheet
2021 College Fantasy Football Top 200 cheat sheet
| | | | | | |
| --- | --- | --- | --- | --- | --- |
| Rank | Player | Pos | Team | Yr | Conf |
| 1 | Malik Willis | QB | LIB | Jr | INDEP |
| 2 | Spencer Rattler | QB | OKL | So | B12 |
| 3 | Breece Hall | RB | ISU | Jr | B12 |
| 4 | Bijan Robinson | RB | TEX | So | B12 |
| 5 | Matt Corral | QB | MISS | Jr | SEC |
| 6 | David Bell | WR | PUR | Jr | B10 |
| 7 | Mohamed Ibrahim | RB | MINN | Sr | B10 |
| 8 | Reggie Roberson, Jr. | WR | SMU | Sr | AAC |
| 9 | Sincere McCormick | RB | UTSA | Jr | CUSA |
| 10 | Kayshon Boutte | WR | LSU | So | SEC |
| 11 | Dillon Gabriel | QB | UCF | So | AAC |
| 12 | Ronnie Rivers | RB | FRES | Sr | MWC |
| 13 | Romeo Doubs | WR | NEV | Sr | MWC |
| 14 | Grayson McCall | QB | CCU | So | SBELT |
| 15 | Kevin Marks, Jr. | RB | BUF | Sr | MAC |
| 16 | Jaylon Robinson | WR | UCF | So | AAC |
| 17 | Kyren Williams | RB | ND | Jr | INDEP |
| 18 | Khalil Shakir | WR | BOI | Sr | MWC |
| 19 | Calvin Austin III | WR | MEM | Jr | AAC |
| 20 | D.J. Uiagalelei | QB | CLE | So | ACC |
| 21 | Corey Rucker | WR | ARKSt | So | SBELT |
| 22 | Bryce Young | QB | ALA | So | SEC |
| 23 | Marvin Mims | WR | OKL | So | B12 |
| 24 | Jalen Berger | RB | WIS | Fr | B10 |
| 25 | Ulysses Bentley IV | RB | SMU | Fr | AAC |
| 26 | Drake London | WR | USC | Jr | P12 |
| 27 | Sam Howell | QB | UNC | Jr | ACC |
| 28 | Desmond Ridder | QB | CIN | Jr | AAC |
| 29 | John Metchie III | WR | ALA | Jr | SEC |
| 30 | Brennan Armstrong | QB | UVA | Jr | ACC |
| 31 | CJ Stroud | QB | OSU | Fr | B10 |
| 32 | Jahan Dotson | WR | PSU | Jr | B10 |
| 33 | Tank Bigsby | RB | AUB | So | SEC |
| 34 | Chris Olave | WR | OSU | Jr | B10 |
| 35 | Jahmyr Gibbs | RB | GAT | Fr | ACC |
| 36 | Garrett Wilson | WR | OSU | Jr | B10 |
| 37 | Jaivon Heiligh | WR | CCU | Sr | SBELT |
| 38 | Jyaire Shorter | WR | NTX | So | CUSA |
| 39 | Dorian Thompson-Robinson | QB | UCLA | Sr | P12 |
| 40 | Camerun Peoples | RB | APP | Jr | SBELT |
| 41 | Zay Flowers | WR | BC | Jr | ACC |
| 42 | Emory Jones | QB | FLA | Jr | SEC |
| 43 | Isaiah Spiller | RB | TA&M | Jr | SEC |
| 44 | Kevin Harris | RB | SC | Jr | SEC |
| 45 | Leddie Brown | RB | WVU | Sr | B12 |
| 46 | Treylon Burks | WR | ARK | Jr | SEC |
| 47 | Dustin Crum | QB | KENT | Sr | MAC |
| 48 | Brian Robinson Jr. | RB | ALA | Sr | SEC |
| 49 | Carson Strong | QB | NEV | Jr | MWC |
| 50 | Justyn Ross | WR | CLE | Jr | ACC |
| 51 | Jaquarii Roberson | WR | WF | Jr | ACC |
| 52 | Malik Cunningham | QB | LOU | Jr | ACC |
| 53 | Justin Hall | WR | BALL | Sr | MAC |
| 54 | D'Eriq King | QB | MIA | Sr | ACC |
| 55 | Ty Fryfogle | WR | IND | Sr | B10 |
| 56 | Tanner Mordecai | QB | SMU | So | AAC |
| 57 | Jalen Cropper | WR | FRES | So | MWC |
| 58 | Austin Jones | RB | STAN | Jr | P12 |
| 59 | Jadon Haselwood | WR | OKL | So | B12 |
| 60 | Bru McCoy | WR | USC | So | P12 |
| 61 | Chevan Cordeiro | QB | HAW | So | MWC |
| 62 | Jordan Addison | WR | PIT | So | ACC |
| 63 | Jalen Tolbert | WR | SOAL | Jr | SBELT |
| 64 | Jerome Ford | RB | CIN | Fr | AAC |
| 65 | Ty Chandler | RB | UNC | Sr | ACC |
| 66 | Jaylen Hall | WR | WMU | Jr | MAC |
| 67 | Kalil Pimpleton | WR | CMU | Jr | MAC |
| 68 | Eric Gray | RB | OKL | Jr | B12 |
| 69 | Joshua Moore | WR | TEX | Jr | B12 |
| 70 | Jerrion Ealy | RB | MISS | Jr | SEC |
| 71 | Tyler Goodson | RB | IOWA | Jr | B10 |
| 72 | Milton Wright | WR | PUR | Jr | B10 |
| 73 | Bo Melton | WR | RUT | Sr | B10 |
| 74 | Max Duggan | QB | TCU | Jr | B12 |
| 75 | Deuce Vaughn | RB | KSt | So | B12 |
| 76 | Josh Downs | WR | UNC | So | ACC |
| 77 | Rachaad White | RB | AZSt | Jr | P12 |
| 78 | Tahj Washington | WR | MEM | Fr | AAC |
| 79 | Skyy Moore | WR | WMU | So | MAC |
| 80 | Jake Haener | QB | FRES | Jr | MWC |
| 81 | Mike Harley | WR | MIA | Sr | ACC |
| 82 | Layne Hatcher | QB | ARKSt | Jr | SBELT |
| 83 | Jermaine Burton | WR | UGA | So | SEC |
| 84 | Chris Autman-Bell | WR | MINN | Sr | B10 |
| 85 | Zamir White | RB | UGA | Jr | SEC |
| 86 | Preston Hutchinson | QB | EMU | Jr | MAC |
| 87 | Yo'Heinz Tyler | WR | BALL | Sr | MAC |
| 88 | Michael Penix Jr. | QB | IND | So | B10 |
| 89 | Joseph Ngata | WR | CLE | Jr | ACC |
| 90 | Tyler Snead | WR | ECU | So | AAC |
| 91 | Reese White | RB | CCU | Jr | SBELT |
| 92 | Braylon Sanders | WR | MISS | Sr | SEC |
| 93 | Xazavian Valladay | RB | WYO | Jr | MWC |
| 94 | Myles Brennan | QB | LSU | Sr | SEC |
| 95 | Brock Purdy | QB | ISU | Sr | B12 |
| 96 | Travell Harris | WR | WASt | Sr | P12 |
| 97 | Andrew Parchment | WR | FSU | Sr | ACC |
| 98 | Chris Smith | RB | ULL | So | SBELT |
| 99 | Ainias Smith | WR | TA&M | Jr | SEC |
| 100 | Danny Gray | WR | SMU | Jr | AAC |
| 101 | Bryant Koback | RB | TOL | Jr | MAC |
| 102 | Tyrice Richie | WR | NIU | Sr | MAC |
| 103 | Elijah Canion | WR | AUB | So | SEC |
| 104 | Greg Bell | RB | SDSt | Sr | MWC |
| 105 | Jaden Walley | WR | MSSt | So | SEC |
| 106 | La'Darius Jefferson | RB | WMU | Jr | MAC |
| 107 | Lew Nichols III | RB | CMU | Fr | MAC |
| 108 | George Holani | RB | BOI | Jr | MWC |
| 109 | Jerreth Sterns | WR | WKU | Jr | CUSA |
| 110 | Clayton Tune | QB | HOU | Jr | AAC |
| 111 | Taj Harris | WR | SYR | Jr | ACC |
| 112 | Sam Pinckney | WR | GASt | So | SBELT |
| 113 | Jarek Broussard | RB | COL | So | P12 |
| 114 | Master Teague III | RB | OSU | Jr | B10 |
| 115 | Keylon Stokes | WR | TULS | Sr | AAC |
| 116 | Sean Clifford | QB | PSU | Jr | B10 |
| 117 | Isaiah Hamilton | WR | SJSt | Jr | MWC |
| 118 | Jeff Sims | QB | GAT | Fr | ACC |
| 119 | Zakhari Franklin | WR | UTSA | Jr | CUSA |
| 120 | Renard Bell | WR | WASt | Sr | P12 |
| 121 | Tyler Badie | RB | MIZZ | Sr | SEC |
| 122 | Ja'Shaun Poke | WR | KENT | Jr | MAC |
| 123 | Tyler Allgeier | RB | BYU | So | INDEP |
| 124 | Wan'Dale Robinson | WR | KEN | Jr | SEC |
| 125 | Victor Tucker | WR | CHAR | Sr | CUSA |
| 126 | Anthony Brown | QB | ORE | Sr | P12 |
| 127 | C.J. Johnson | WR | ECU | So | AAC |
| 128 | Kedon Slovis | QB | USC | Jr | P12 |
| 129 | Jayden Daniels | QB | AZSt | So | P12 |
| 130 | Erik Ezukanma | WR | TXT | So | B12 |
| 131 | Kenneth Walker III | RB | MSU | So | B10 |
| 132 | Brennan Presley | WR | OKSt | So | B12 |
| 133 | Cornelious Brown IV | QB | GASt | Fr | SBELT |
| 134 | Emeka Emezie | WR | NCSt | Sr | ACC |
| 135 | CJ Verdell | RB | ORE | Jr | P12 |
| 136 | Jadan Blue | WR | TEM | Jr | AAC |
| 137 | Spencer Sanders | QB | OKSt | Jr | B12 |
| 138 | Marcell Barbee | WR | TXSt | Jr | SBELT |
| 139 | Frank Gore, Jr. | RB | USM | Fr | CUSA |
| 140 | Calvin Turner | RB | HAW | Sr | MWC |
| 141 | DeWayne McBride | RB | UAB | So | CUSA |
| 142 | Isaiah Winstead | WR | TOL | Jr | MAC |
| 143 | Cam Porter | RB | NW | So | B10 |
| 144 | Nathaniel Dell | WR | HOU | So | AAC |
| 145 | Will Rogers | QB | MSSt | So | SEC |
| 146 | Zonovan Knight | RB | NCSt | So | ACC |
| 147 | Xavier Hutchinson | WR | ISU | Sr | B12 |
| 148 | Kaleb Eleby | QB | WMU | So | MAC |
| 149 | Quentin Johnston | WR | TCU | So | B12 |
| 150 | D'Vonte Price | RB | FIU | Sr | CUSA |
| 151 | Dante Wright | WR | COSt | So | MWC |
| 152 | Chris Rodriguez Jr. | RB | KEN | Jr | SEC |
| 153 | Teon Dollard | RB | AKR | Jr | MAC |
| 154 | Grant Gunnell | QB | MEM | So | AAC |
| 155 | Jack Plummer | QB | PUR | Jr | B10 |
| 156 | Charles Williams | RB | UNLV | Sr | MWC |
| 157 | Kobe Lewis | RB | CMU | Jr | MAC |
| 158 | Deven Thompkins | WR | USU | Sr | MWC |
| 159 | Bailey Zappe | QB | WKU | Sr | CUSA |
| 160 | Phil Jurkovec | QB | BC | Jr | ACC |
| 161 | De'Montre Tuggle | RB | OHIO | Sr | MAC |
| 162 | Jo'quavious Marks | RB | MSSt | So | SEC |
| 163 | Zach Evans | RB | TCU | So | B12 |
| 164 | Jashaun Corbin | RB | FSU | So | ACC |
| 165 | Adrian Martinez | QB | NEB | Jr | B10 |
| 166 | Destin Coates | RB | GASt | Jr | SBELT |
| 167 | Charlie Kolar | TE | ISU | Sr | B12 |
| 168 | Chris Reynolds | QB | CHAR | Sr | CUSA |
| 169 | Toa Taua | RB | NEV | Sr | MWC |
| 170 | Tyjae Spears | RB | TULN | Fr | AAC |
| 171 | Max Borghi | RB | WASt | Sr | P12 |
| 172 | Michael Pratt | QB | TULN | Fr | AAC |
| 173 | Trelon Smith | RB | ARK | Jr | SEC |
| 174 | Greg Dulcich | TE | UCLA | Jr | P12 |
| 175 | Arik Gilbert | TE | UGA | So | SEC |
| 176 | Mataeo Durant | RB | DUKE | Sr | ACC |
| 179 | Brittain Brown | RB | UCLA | Sr | P12 |
| 177 | Baylor Romney | QB | BYU | So | INDEP |
| 178 | Casey Thompson | QB | TEX | Jr | B12 |
| 180 | Bo Nix | QB | AUB | Jr | SEC |
| 181 | JT Daniels | QB | UGA | Jr | SEC |
| 182 | Taulia Tagovailoa | QB | MARY | Jr | B10 |
| 183 | Marcus Williams Jr | RB | LAT | Sr | CUSA |
| 184 | Haynes King | QB | TA&M | Fr | SEC |
| 185 | Holton Ahlers | QB | ECU | Jr | AAC |
| 186 | Tyler Shough | QB | TXT | So | B12 |
| 187 | Oscar Adaway III | RB | NTX | Fr | CUSA |
| 188 | Levi Lewis | QB | ULL | Sr | SBELT |
| 189 | Jayden de Laura | QB | WASt | So | P12 |
| 190 | Kobe Pace | RB | CLE | So | ACC |
| 191 | Kimani Vidal | RB | TROY | Fr | SBELT |
| 192 | Samori Touré | WR | NEB | Sr | B10 |
| 193 | KJ Jefferson | QB | ARK | Fr | SEC |
| 194 | Asa Martin | RB | MEM | So | AAC |
| 195 | Jarrin Pierce | WR | MTSU | Sr | CUSA |
| 196 | Sam Hartman | QB | WF | So | ACC |
| 197 | Jalen Nailor | WR | MSU | Jr | B10 |
| 198 | Sean Dykes | TE | MEM | Sr | AAC |
| 199 | Austin Aune | QB | NTX | So | CUSA |
| 200 | Micah Bernard | RB | UTA | Fr | P12 |