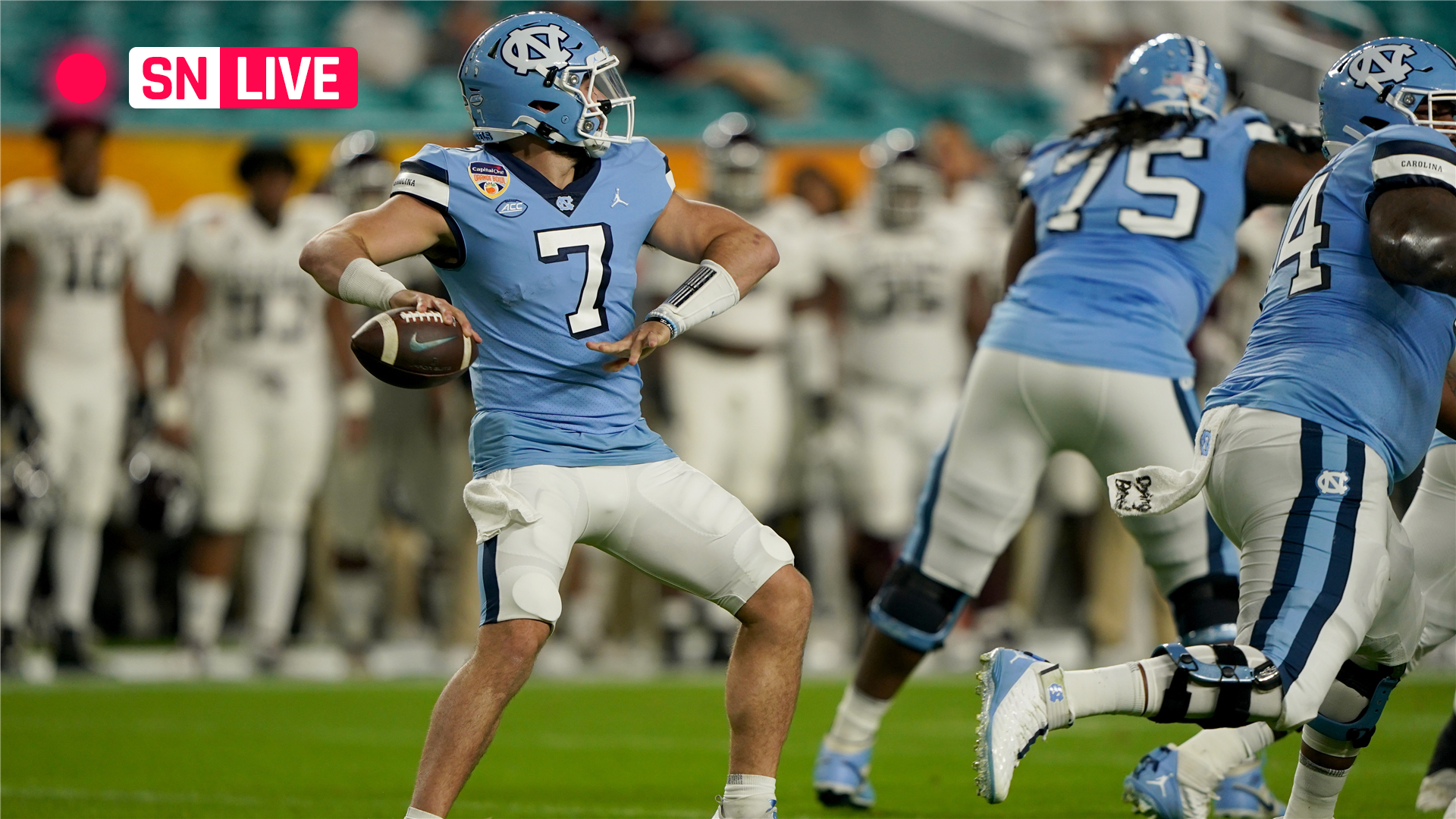 The first ACC game of the college football season features one of the nation's top established quarterbacks — and, no, he doesn't play for Clemson.
North Carolina's Sam Howell, who led the ACC in both passing yards and passing touchdowns a season ago, will look for another strong outing on Friday when the Tar Heels travel to Blacksburg to take on ACC Coastal foe Virginia Tech,
The Tar Heels went 8-4 last year and made it to a New Year's Six bowl, where they lost 41-27 to Texas A&M, but their season on the whole was good enough to have them ranked inside the top-20 nationally to end the year for the first time since 2015.
MORE: Watch North Carolina vs. Virginia Tech live with fuboTV (7-day free trial)
The Hokies, meanwhile, posted their second losing season in three years in 2020 and dropped a 56-45 shootout to the then-No. 8 Tar Heels in Chapel Hill. It was their first ranked loss of the season, but their only one to come on the road.
Virginia Tech coach Justin Fuente made $4.25 million last season, the most of any coach in the commonwealth of Virginia, and if he wants to live up to that contract, his best chance could come with an early season upset on Friday as his team takes on a new look offense for the Tar Heels. 
It's going to be a tall order for the Hokies, who are led at quarterback by Braxton Burmeister. He played in just six games last season, but only went 48-of-85 for 687 yards and two touchdowns. Last year's starter, Hendon Hooker, transferred to Tennessee for his senior season, which means like Howell, Burmeister is also getting his first real taste of this year's slate of Virginia Tech's weapons.
Though Howell is an experienced signal caller, his weapons this year look markedly different as he looks to replace his top running backs and receivers, who accounted for nearly 75 percent of the Tar Heels' total offense a season ago, which means if Virginia Tech's defense is up to the task, it might just be able to slow down Howell and coach Mack Brown's top-10 team.
The Sporting News will have live updates, highlights and scores from Friday's first ACC game of the year, starting at 6 p.m. ET.
North Carolina vs. Virginia Tech score
| | | | | | |
| --- | --- | --- | --- | --- | --- |
|   | Q1 | Q2 | Q3 | Q4 | F |
| North Carolina | 0 | – | – | – | – |
| Virginia Tech | 7 | – | – | – | – |
North Carolina vs. Virginia Tech live updates, highlights
7:17 p.m.: Burmeister sacked on third down and Virginia Tech punts it 51 yards and the Tar Heels take over at their own 30 with just 27 seconds left in the first half.
7:14 p.m.: UNC calls a timeout with 41 seconds left in the first half and with Virginia Tech facing third-and-9 down 14-0 but the Tar Heels get the ball to start the second half and could help shift the momentum.
7:11 p.m.: North Carolina goes three-and-out after the Virginia Tech touchdown on a drive that saw Howell got sacked again and then on third-and-15, Howell finds Josh Downs for 13 yards but it comes up short and UNC opts to punt from their onw 33.
7:04 p.m.: TOUCHDOWN VIRGINA TECH. Burmeister converts in the red zone on the run and under pressure, finds James Mitchell for 11 yards to cap off a 12 play, 80 yard 7:19 drive. VIRGINIA TECH 14, UNC 0. The Hokies are 6-for-6 on third down tonight and have done a great job mixing up the offense and confusing the UNC defensive unit with 3:07 left in the half.
Braxton Burmeister rolls out & finds James Mitchell for the TD. Virginia Tech has taken advantage of North Carolina's slow start. The Hokies offensive line has been dominant as well.

NORTH CAROLINA 0
VIRGINIA TECH 14

— CFB Blitz (@BlitzCfb) September 3, 2021
7:02 p.m.: Burmeister drops It in perfectly and finds Tre Turner way down field, who's 6-for-6 on that 34 yard pass to set the Hokies up on the UNC 8 yard line and in prime position to make it a two score game.
7:00 p.m.: Under six minutes left in the first half and 184 total yards for the Hokies who are 5-for-5 on third down.
6:58 p.m.: The Hokies offense has done a great job so far as Burmeister completes it to Tre Turner for 16 yards as they cross midfield.
6:53 p.m.: Virginia Tech facing third-and-13 and the Hokies remain perfect on third down, as Burmeister finds Blackshear for 18 yards to the Virginia Tech 35 and the Hokies take a timeout with 8:14 left in the second quarter.
6:46 p.m.: On third-and-7, Virginia Tech's defensive line just overpowers and has its way with UNC's offensive line and they sack Howell, as the Tar Heels punt on fourth-and-20 and it goes for a touchback. Tar Heels need a stop here on this next Hokie drive.
6:44 p.m.: Teneesee transfer Ty Chandler has been integral so far on this offensive drive for the Tar Heels with runs of nine and six yards as UNC is on the Hokie 29-yard line facing first-and-10.
6:41 p.m.: On third-and-10, the pocket collapses but Howell able to make something happen with his legs and takes it 14 yards for the first down on the UNC 46-yard line.
First quarter: Virginia Tech 7, North Carolina 0
6:38 p.m.: The final play of the first quarter is a Ty Chandler run for UNC that loses two yards. The Tar Heels hope this offensive drive goes better than their first.
6:37 p.m.: Howell hits Emery Simmons for 23 yards to help advance the ball down the field and get North Carolina out of being backed up to its own endzone. Haven't seen much of Howell yet with how much Virignia Tech is running the ball.
6:34 p.m.: The 11th straight run for Virginia Tech is the one that stops their momentum as Keshawn King fumbles on the North Carolina 9-yard line, and the Tar Heels and Sam Howell take the field backed up to their own end zone.
6:33 p.m.: Virginia Tech has six first downs already as the clock is winding down in the first quarter as they run it for a 10th straight time, this one by Burmeiester again, setting up second-and-3 on the UNC 10.
6:31 p.m.: Jalen Holston takes It 6 yards as Virginia Tech continues to just run the ball all over the field. 13 runs and three passes for the Hokies who are now 3-for-3 on third down. Hokies back in the redzone on the UNC 20.
6:29 p.m.: Burmeister does it again with his legs on third-and-5. Looked for the tight end but opted to take it himself and scramble for the first down.
6:27 p.m.: The Tar Heels seem to be all out of sorts. Virginia Tech already at 102 total yards with 7:00 left in the first quarter thanks to another big first down run by Raheem Blackshear.
6:22 p.m.: North Carolina compounds matters and makes them worse, another early penalty, this one a face mask on the punt, giving Virginia Tech an extra 15 yards on the returm.
6:20 p.m.: The Hokies defense comes up with a big early three and out and their secondary has done a good job at limiting separation by UNC receivers. The Tar Heels punt it away on fourth-and-13 from their own 35.
6:19 p.m.: North Carolina gets hit for an early false start penalty as they face first-and-15 from their own 33.
6:13 p.m.: TOUCHDOWN VIRGINIA TECH. Braxton Burmeister keeps it and takes it himself from the UNC 4-yard line as the Hokies score on their opening drive. Virginia Tech 7, North Carolina, 0. An eight play, 75 yard opening drive for the Hokies is about as good a start as they could have hoped for.
6:12 p.m.: The officials confirm the first down as Robinson's 16 yard run puts Virginia Tech at the UNC 9-yard line and in great position for an early score.
6:08 p.m.: Virginia Tech is marching down the field, but a nice run by Tayvion Robinson could be comng back. Originally good for a first down on third-and-5 but as Robinson juked out a defender, he may have stepped out of bounds. Under review right now.
6:05 p.m.: The Hokies offense is rolling early. Hokies quarterback Braxton Burmeister hits Raheem Blackshear for 33 yards and Virginia Tech is nearing the redzone early.
6:00 p.m.: "Enter Sandman" by Metallica plays in Blacksburg as they report a crowd of 66,000 on hand as the Hokies look to pull off a top-10 upset tonight over UNC.
How to watch North Carolina vs. Virginia Tech
Time: 6 p.m.
TV channel: ESPN
Live streams: WatchESPN App, ESPN+, fuboTV
UNC vs. Virginia Tech will air live on ESPN starting at 6 p.m. ET. You can stream the game live online with ESPN+ or on fuboTV, which offers a free seven-day trial.
Jason Benetti and Andre Ware will call the game from the booth, with Paul Carcaterra serving as the sideline reporter.  
North Carolina football schedule 2021
| | | |
| --- | --- | --- |
| Week 1 | Sept. 3 | at Virginia Tech |
| Week 2 | Sept. 11 | vs. Georgia State |
| Week 3 | Sept. 18 | vs. Virginia |
| Week 4 | Sept. 25 | at Georgia Tech |
| Week 5 | Oct. 2 | vs. Duke |
| Week 6 | Oct. 9 | vs. Florida State |
| Week 7 | Oct. 16 | vs. Miami |
| Week 8 | Oct. 30 | at Notre Dame |
| Week 9 | Nov. 6 | vs. Wake Forest |
| Week 10 | Nov. 11 | at Pittsburgh |
| Week 11 | Nov. 18 | vs. Wofford |
| Week 12 | Nov. 26 | at NC State |
Virginia Tech football schedule 2021
| | | |
| --- | --- | --- |
| Week 1 | Sept. 3 | vs. UNC |
| Week 2 | Sept. 11 | vs. Middle Tennessee |
| Week 3 | Sept. 18 | at West Virginia |
| Week 4 | Sept. 25 | vs. Richmond |
| Week 5 | Oct. 9 | vs. Notre Dame |
| Week 6 | Oct. 16 | vs. Pittsburgh |
| Week 7 | Oct. 23 | vs. Syracuse |
| Week 8 | Oct. 30 | at Georgia Tech |
| Week 9 | Nov. 5 | at Boston College |
| Week 10 | Nov. 13 | vs. Duke |
| Week 11 | Nov. 20 | at Miami |
| Week 12 | Nov. 27 | at Virginia |